DIALOGUES IN CLAY
29 APRIL - 02 MAY 2019
Royal Opera Arcade, London SW1Y 4UY
In parallel to Maak's forthcoming auction, we present Dialogues in Clay, a small survey exhibition inspired by the collection of sculptor and gallerist George Kyriacou.
DIALOGUES IN CLAY | An Exhibition 
29 APRIL - 02 MAY 2019
Royal Opera Arcade, London SW1Y 4UY 
As part on their longstanding commitment to the promotion of studio ceramics, Maak are delighted to present a small survey exhibition, Dialogues in Clay, for viewers to reflect on the continued resonance between antiquities and pottery from the past and the work of modern studio potters.
Dialogues in Clay is inspired by the collection of sculptor and gallerist George Kyriacou. The exhibition will show studio ceramics selected from the Kyriacou Collection and the wider auction offering, alongside pairings with ancient oriental ceramics and antiquities as a reflection of Kyriacou's approach to building his wider collection over the last 40 years. The exhibition will be on view alongside Maak's Spring 2019 Modern + Contemporary Ceramics Auction from Monday 29 April to 2 May at the Royal Opera Arcade Gallery.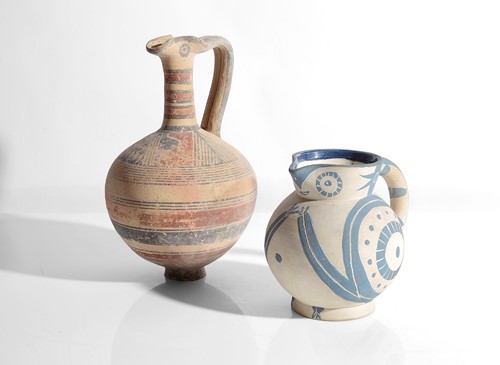 The foundation to George Kyriacou's collection is his appreciation of the enduring dialogue between ceramicists through the ages. This relationship has fascinated him, influencing both how he collected, and how he went on to live with the works over the last four decades.
Kyriacou's passion for ceramics stemmed from a belief in his own words that 'pottery is the mother of all the visual arts and relates most closely the culturalization of humanity.' He explains how, 'being made for daily use, pottery was always been a tangible and tactile art form and so feels more intimately connected to humanity than other art form. It is also the most culturally informative, with ceramics having survived in greater quantity and for longer than most other art forms.'
When Kyriacou started collecting in the 1970s the fashion at the time was for flamboyant and decorative oriental art, however Kyriacou was drawn by the 13th and 14th century Eastern ceramics that in their restraint and purity of form reflected the power of their material. His earlier love of oriental ceramics evolved to a true passion when he was first introduced to British Studio Pottery when attending one of the earliest 'Studio Ceramics' auctions at Sotheby's Belgravia in 1978. He was struck by how much these early forms must have influenced modern potters. He therefore started buying Bernard Leach, Lucie Rie and Hans Coper as well as other studio ceramics alongside the early oriental ceramics already in his collection, enjoying the resonance of aesthetic similarities. As well as oriental and studio ceramics George also began collecting antiquities – always with his studio ceramics collection in mind - enjoying the cross reference between the different eras of creativity. The exhibition includes a number of his own pairings.  
In some instances the influence of their predecessors was a direct one, with potters actively looking at earlier art forms as a source of inspiration as in the case of early 'traditionalist' potters such as Charles Vyse, Bernard Leach and Katharine Pleydell-Bouverie.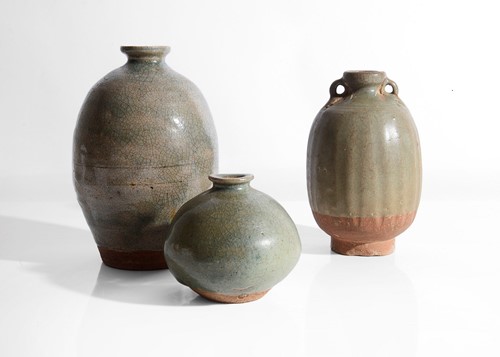 Ian Godfrey is well represented in the Kyriacou collection and a potter who was actively looking at ceramic art forms from the past. 'He was always interested in antiquities and studied Viking traditions whilst he was in Denmark. He later spent time in Cyprus, discovering early Cypriot pottery.' (Modern Pots, The Lisa Sainsbury Collection, Cyril Frankel, Thames and Hudson, 2000). He was known to have spent a lot of time studying the artefacts at the British Museum, opposite the small gift shop Best of British where he sold his work. This close dialogue is beautifully illustrated in the group of Ian Godfrey Horses and the ancient Cypriot Terracotta Horses, all from the Kyriacou Collection.
In other instances the resonance is more aesthetic and it was this dialogue that Kyriacou most enjoyed exploring within his own collection.
Dialogues in Clay is a celebration of studio ceramics - an art form that for thousands of years has intimately existed at the centre of human lives as tactile objects handled through daily use. The curated selection opens the world of collecting studio ceramics to new audiences by illuminating the rich medium, while at the same time delighting long-term collectors of pottery with its unique focus.
Auction Viewing
29 April – 02 May 2019
Royal Opera Arcade Gallery, 5 Pall Mall, London SW1Y 4UY
About George Kyriacou
Sculptor and collector George Kyriacou is a Greek Cypriot who lives between London and Cyprus. Having returned to Cyprus after a scholarship at Chelsea School of Art in 1961-64, Kyriacou returned to London in 1976 following the Turkish invasion of Cyprus. Together with his wife Ritsa he opened K Gallery in Hampstead in 1990. The gallery blossomed and hosted mainly contemporary Greek art but also solo presentations of potters such as Gabriele Koch.
About Maak
Maak contemporary ceramics is a specialist auctioneer and art consultancy that is dedicated to ceramic art of the 20th  and 21st centuries. Maak was established in 2008 by Marijke Varrall-Jones, former Head of Contemporary Ceramics at Bonhams. They hold two auctions a year which are conscientiously curated to offer works by a broad selection of ceramic artists, reflecting all the major developments, with particular emphasis on British Studio Ceramics. The Maak Contemporary Ceramics auctions have become well established amongst collectors and feature fine examples by the leading names in the field, from the early traditionalist potters such as Bernard Leach to contemporary ceramic artists including Edmund de Waal.  
Maak Contemporary Ceramics, London: 
Marijke Varrall-Jones - Founder Director, Maak
www.maaklondon.com
 |  marijke@maaklondon.com
T: +44 (0) 1628 290 050  |  M: +44 (0) 7903 049 444