The Collection of Dr Anne-Carole Chamier 
Contemporary Ceramics Auction
22 - 25 May 2023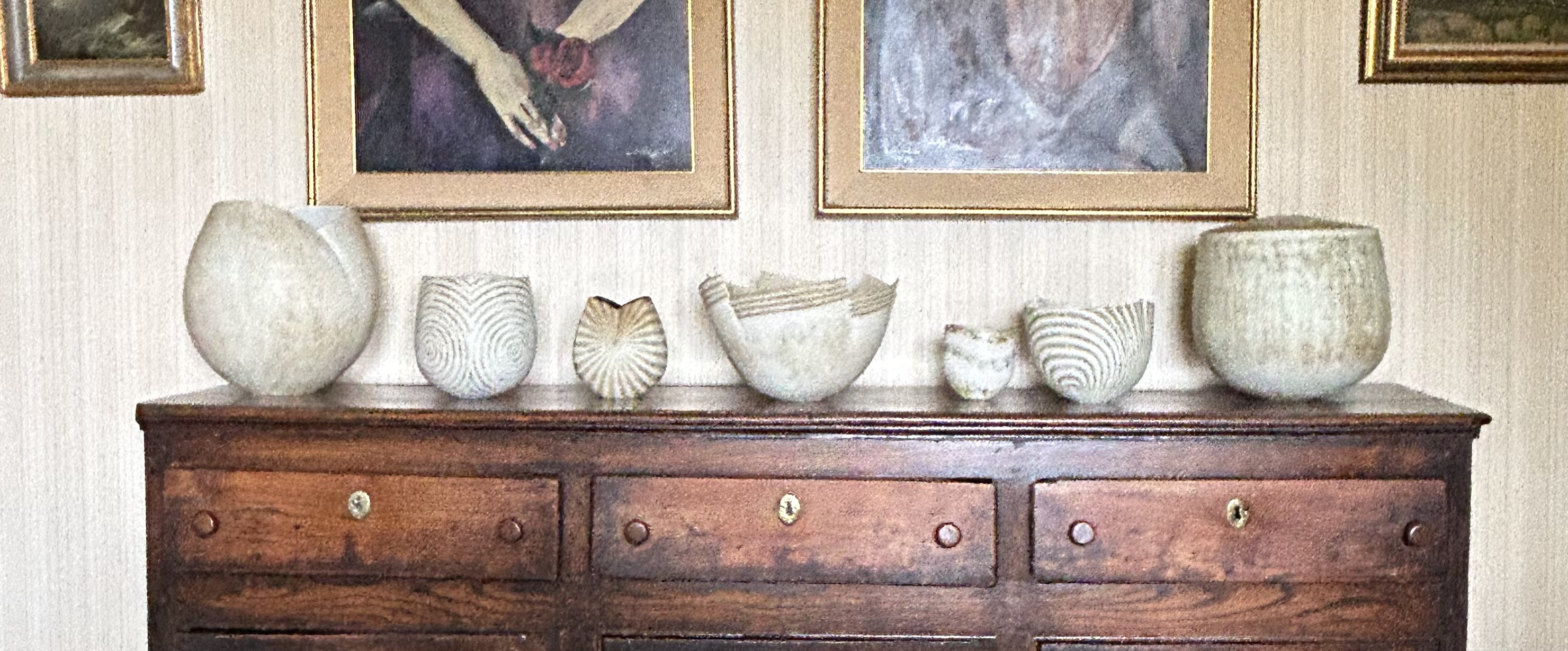 This Collection was brought together by Dr Anne-Carole Chamier between 1972 and 1992. Dr Chamier began collecting after staying in Cornwall with Eve Herring, who had been part of the St Ives' set of artists and craftsmen. An introduction to the work of Bernard Leach and a subsequent visit to David Leach's pottery near Bovey Tracey were seminal in stimulating this endeavour.
The majority of items in the collection were acquired either directly from the potter's workshops or at gallery exhibitions in London and across the UK. The works selected were deemed to be the best pieces by both the potter and the collector.
The collection is largely representative of British studio and craft ceramics of the 1970s and 1980s. Much of the collection draws from the Leach tradition of early English slipware and oriental ceramics, illustrated by important works by Bernard Leach and his family. However the collection also includes works by Lucie Rie, Ewen Henderson and Gordon Baldwin, who owe more to Continental influences and sculptural concepts. All however retain an adherence to the vessel form - where a reference to the wheel or sense of utility formed a parameter for artistic expression and craftsmanship.
As well as a dedicated collector, Dr Chamier was a prolific writer on studio ceramics, contributing regularly, often spiritedly, to Ceramic Review and other publications. Extracts from Dr Chamier's writings are included here. A hugely detailed and beautifully documented inventory of the collection, created by Dr Chamier's husband Anthony, is a testament to the care and consideration taken with this collection and demonstrates the importance of the relationships formed between the collector and the various potters. It has also proven a wonderful source of information on the many exhibitions that took place over the period.
The collecting journey ended on the couple's  retirement, when they moved from Hampton on Thames to the family house in Ross-shire, Scotland in 1992, where the collection of over 600 pots were lived with, and loved, every day until her death in 2022.
Selections from the collection are included in Maak's 25 May Contemporary Ceramics Auction, now viewing online
---
---
View the collection highlights catalogue here
---
---
Extracts from Dr Chamier's writings and correspondence
On the merits of tradition
'To suggest… that because Bernard Leach and his school drew inspiration from Chinese, Japanese and Korean pots, their work is imitative and therefore debased, is the same as saying that Michaelangelo's sculpture and painting are worthless because he was inspired by 5th century B.C. Greek art. The history of art is the history of cross-fertilization of cultures and it is about nothing if not the influence of individual artists and the inspiration they have drawn from other artists, other styles and other cultures, transforming and revealing by their genius.'
Extract from a letter published in Ceramic Review, issue number 78 November/December 1982.
On collecting ceramics
'For me to be fired, at an exhibition, to buy a pot, it has to be love at first sight. (How else could I beat Bill Ismay to the sales desk). Spontaneous combustion is easier to achieve with a pot than with a painting or work of sculpture. The eye takes longer to 'read' these. Between 1972-92 I succumbed to the charms of some 600 pots and have not lost interest in any. Indoors, my visual world is built around them, and part of the pleasure of daily life lies in using some at table.'
'Once the red spot is safely in place, I can explain why I think the pot is exceptional. But I cannot explain its magic for me; only suggest peripheral influences that find a response through my visual vocabulary. This has been acquired through a devotion to art, craft and the natural world.'
'Great artists are superb craftsmen, but, as with Mozart, their finest gift is to offer us creations that have the power to illuminate, inspire and console.'
---
Pages from the inventory of Dr Anne-Carole Chamier's Collection