Marijke Varrall-Jones, Director of Maak Contemporary Ceramics discusses the early work of Bernard Leach, looking at slipware, Raku ware and the tiles in which he was creating during his early years at the Leach Pottery in St Ives.
'Pioneer Potters'
Maak Contemporary Ceramics explore the origins of British Studio Ceramics
---
The Maak Modern + Contemporary Ceramics auction Pioneer Potters presents over 100 years of the British Studio Ceramics movement from its earliest origins to the leading makers of today.
Pioneer Potters includes a significant selection from the collection of the late Dr John P Driscoll. A respected New York art dealer specialising in the Hudson River School, Driscoll was known for his exceptional eye and his enquiring academic approach to collecting. His collection of studio pottery was deeply personal and he accumulated some 1,600 pots over a forty year period.
The first record breaking auction from the collection in November 2021, presented by Maak with Phillips in London, was signaled as a once in-a -lifetime opportunity to re-evaluate the cultural significance of studio ceramics. Over the last twelve months, Maak has curated a series of auctions celebrating this remarkable collection. As Marijke Varrall-Jones, Founding Director at Maak explains:
"The fortunate position we have at Maak, having dedicated ourselves exclusively to the field of studio ceramics for over 10 years, is that we are able to be selective in how we bring our auctions together. This doesn't mean focusing solely on the highest end of the secondary market, what excites us is bringing interesting narratives to our presentations. Our level of specialism means we enjoy initiating discussions and deeper understanding through the works that we present to the market. John Driscoll's collection has allowed us to introduce multiple narratives. Our sale in March reflected on the cross-pollination of ideas between eastern and western ceramics cultures and we commissioned a wonderful essay by the renowned author Tanya Harrod to accompany the auction. For this latest auction, Pioneer Potters, the academic curiosity with which John approached his collection resulted in him including rare early works that presented us with the opportunity to focus on some of the earliest contributors to the studio pottery conversation."
Many accounts of the studio ceramics movement begin with Bernard Leach and William Staite Murray, with much focus on their seemingly opposing ideologies in their approach to their art. Murray approached ceramics from an established position within London's avant-guard art scene, whereas Leach was more contradictory with his ambition, seeking to both establish the Leach Pottery as a centre for artisanal craft whilst simultaneously aspiring to the same recognition that Murray was achieving for his individual works.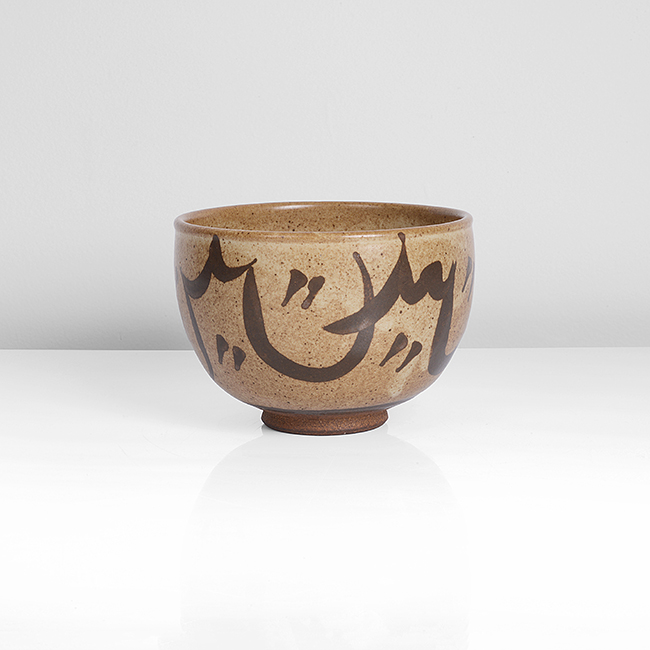 Illustrated: William Staite Murray
Yet in spite of the seeming dichotomy, there existed an atmosphere of mutual appreciation and creative exchange between them during these early years as they all struggled to overcome the technical challenges of working with stoneware. Murray fired tests for Leach in his kiln, whilst Hamada taught Murray to carve foot rings and decorate with a Japanese brush – both of which became integral to Murray's style.
During these early years, Leach and Hamada's work was characterized by experimentation, producing slipware, stoneware and raku. The sale includes numerous examples of these earliest experimental work including a small stoneware bowl by Bernard Leach that reflects his interest at Song Dynasty ware with its distinctive 'Hares-fur' glaze, and a small footed bowl by Shoji Hamada made in 1923 and acquired by the Scottish painter William McCance from Patterson's Gallery, 5 Old Bond Street in at Hamada's first London exhibition.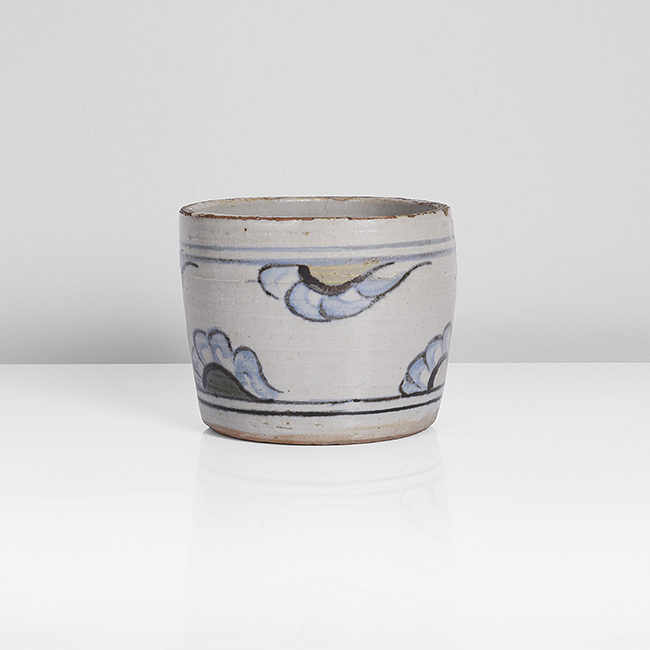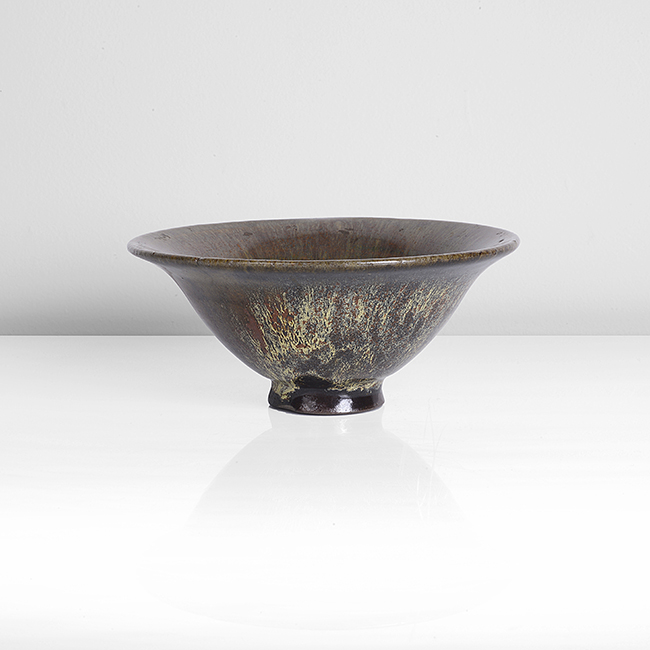 Illustrated: Bernard Leach, Early Raku Bowl & Stoneware 'Hare's Fur' Glazed Bowl
One very rare early work that predates this period is a small modest bowl made by Leach in his very earliest years whilst still in Japan before coming to St Ives in 1920 to establish the Leach Pottery. This rare early blue and white pot is an example of where Leach was looking at both Chinese Ming Dynasty ceramics and European tin-glazed 'Delft' ware. 
An early bowl by Murray from 1924 included in Pioneer Potters, was exhibited in the 1935 exhibition at the Victoria & Albert Museum English Pottery Old and New, which aimed to provide context to contemporary potters by showing them alongside English Pottery from the past. The bowl was illustrated in the catalogue and listed as having been loaned by George Eumorfopoulos.
Eumorfopoulos was a renowned collector of Oriental ceramics with a particularly fine collection of early Chinese ceramics. He was a great friend to Charles and Nell Vyse, encouraging their interest in glaze technology and extensive experimentations to replicate the Song Dynasty glazes that they had studied first-hand from the Eumorfopoulos collection. The sale includes a number of important works by Charles Vyse from the 1930s reflecting this influence.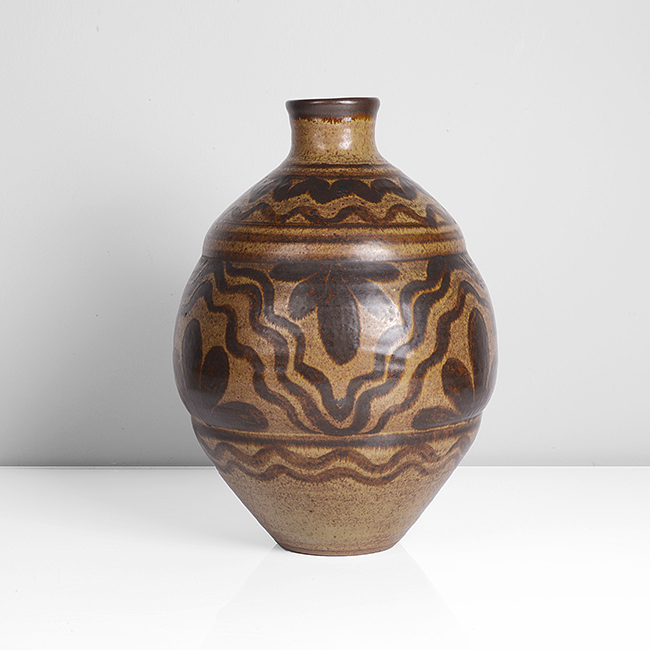 Illustrated: Charles Vyse, Early Vase
Alongside these early works by Vyse, Murray, Leach and Hamada, a number of the pots in the auction predate this era and represent the very earliest origins of the studio ceramics movement as we know it today, reflecting Driscoll's academic exploration of 'where it all began'.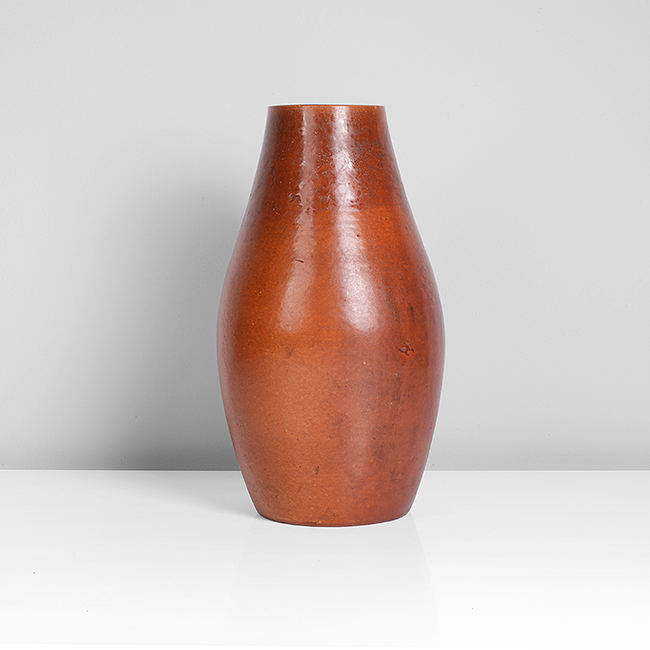 Illustrated: Dora Lunn, Vase
A simply thrown vase form with vivid orange red glaze by Dora Lunn (1881-1955) dates from circa 1920. Lunn founded the all-female Ravenscourt Pottery in London in 1916 and can probably be considered the first commercially viable independent studio potter. A contemporary review in the Daily News from 1916 referred to her as 'The Complete Artist… who is her own designer, painter, moulder and firer'[i]. The following year Lunn was the first woman to exhibit at the British Industries Fair, showing a range Ravenscourt Pottery utilitarian ware to expensive 'one off' pieces.
[i] Jeffrey Jones, 'Studio Pottery in Britain 1900-2005', A & C Black, 2007; p.39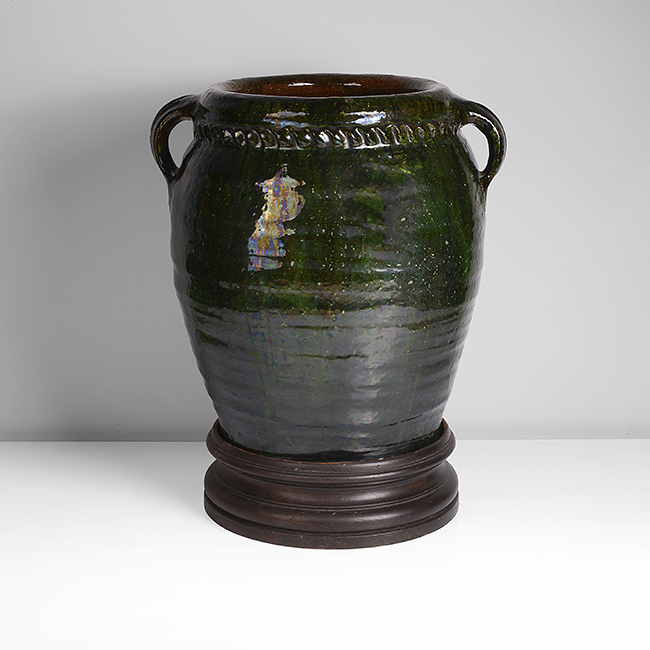 Illustrated: Edwin Beer Fishley, Large Jar
Similarly two works by Edwin Beer Fishley (1832-1912) of Fremington Pottery, North Devon, form an origin point for the influence Fishley and his grandson son William Fishley Holland had on a young Michael Cardew, who's family were patrons of the pottery. A young Cardew spent much of his spare time watching Mr Fishley, who came from a long line of country potters, throwing pots, an experience that directly influenced Cardew to take up pottery later in life. The larger of the two vessels was very much an exhibition piece, placed on a specially made hand-turned wooden base. The works of Fremington Pottery represented a living link the the 17th century English slipware tradition that captivated Bernard Leach and Shoji Hamada from their earliest days at the Leach Pottery and formed an instant point of connection when the young Michael Cardew joined them as the first apprentice of the Leach Pottery in 1923. An early slipware jug made by Cardew at the Leach Pottery in circa 1924 is a rare and early example of his work from this era.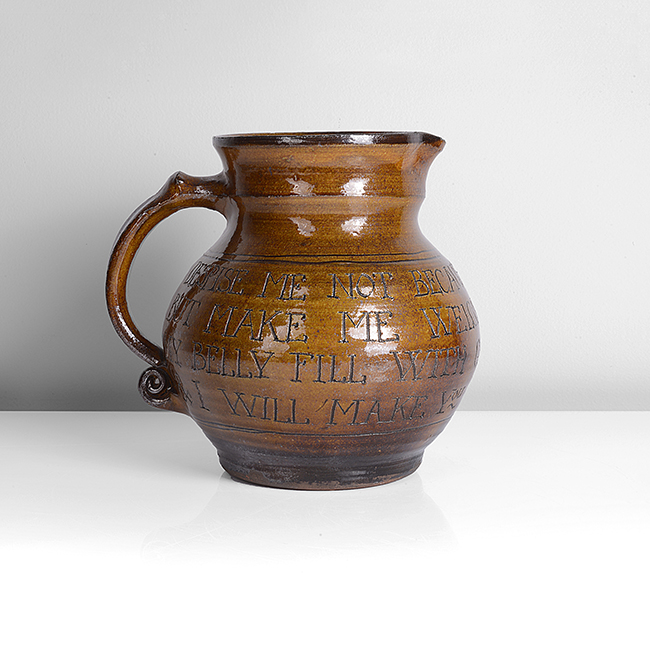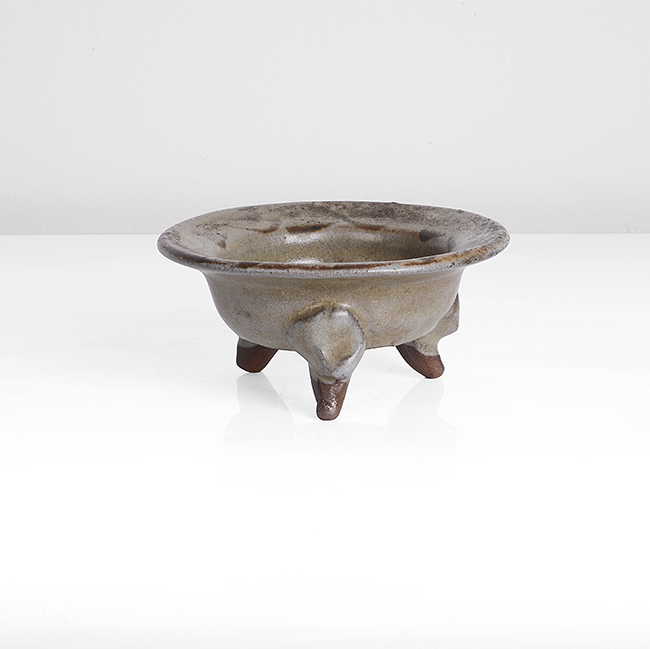 Illustrated: Michael Cardew, Harvest Jug & Hamada Shoji, Small Footed Bowl
"The opportunity to bring focus on these early pioneering potters of the 20th century has allowed us to revisit the origins of the studio ceramics movement that has evolved to the extraordinary wide ranging and varied creativity that we see from the ceramic artists working today."
The Maak auction Pioneer Potters – Modern + Contemporary Ceramics is currently available to view online here with the London gallery viewing and bidding opening on 14 November and closing from 10am GMT on 17 November.
All works referenced, alongside many other important works spanning over 100 years of studio ceramics, are available for sale.
Marijke Varrall-Jones | October 2022