East Meets West: Selections from the Dr. John P. Driscoll Collection 
Maak Contemporary Ceramics | 10 March 2022
Maak are pleased to share an insightful written work by the renowned craft historian and author Tanya Harrod exploring  the cultural relationships reflected in the collection of Dr John P Driscoll.
John Driscoll's collection of ceramics tell stories, interrogating power relationships between East and West and the North and the global South and allowing us to see cultures collide. Driscoll was evidently drawn to the complexity of studio ceramics as a new twentieth century art form, evolving in reaction to the increasing industrialisation of an ancient craft. Artists were inspired by early ceramics, looking beyond what the potter Michael Cardew (1901-1983) dismissed as 'the Greek vase horizon'. Twelfth century Chinese wares became part of a new canon of beauty as did the austere pots valorised by the Japanese tea ceremony and the ceramics made during the long Yi dynasty in Korea. And, in an increasingly globalised world, modernists were drawn to contemporary vernacular pots wherever they survived, from the country potteries of the Iberian peninsula, to the pueblo pots of New Mexico, to those made in Africa south of the Sahara.
Perhaps we are only beginning to understand the complexity of these interactions. If Japan represented a kind of dream world for Europeans in the late nineteenth century, the radical Meiji era thinker Tokutomi Sohō dismissed the mythification of his country: 'These foreigners regard Japan as world's playground, a museum: they pay their admission and enter because there are so many extraordinary things to see.' Bernard Leach (1887-1979), typically, had arrived in Japan in 1909 as an artist in search of an imaginative space.
In 1911 he discovered ceramics at a raku party, apprenticing himself to Ogata Kenzan VI and became aware of the high status occupied by ceramics in Japan. For Leach, Japan represented an idyllic world of hand skills. When, however, Leach returned to England with the young potter Shoji Hamada(1894-1978) he reaped the benefits of Japanese industrial pedagogy. Hamada had trained as a ceramic engineer in Tokyo and had taught at the Kyoto Ceramic Research Centre. Arguably Hamada's technical know-how helped make Leach's pottery at St Ives in Cornwall possible.
Bernard Leach, Early Bowl circa 1923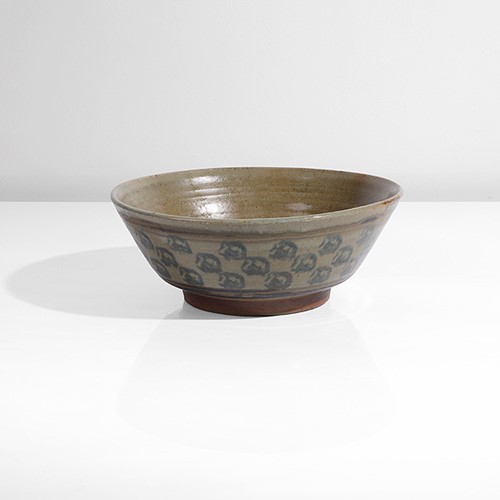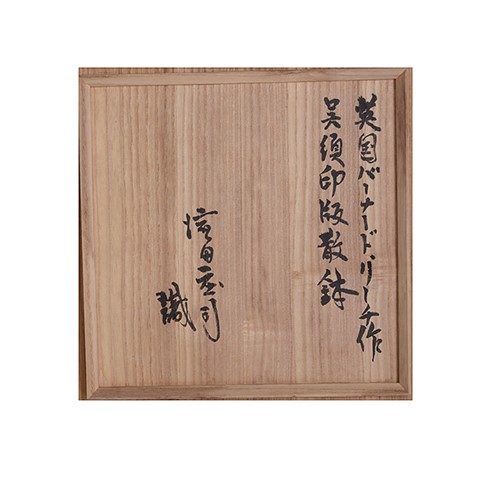 ---
When Hamada decided to return to Japan in 1923 Leach made a simple bowl with a repeat printed decoration – an allusion to British spongeware - as a parting gift. It is a playful piece, suggesting an interchange between the two good friends – and it is neither entirely Western or Eastern in its influences. And in the post-war period, potters without Leach's experience of living in Japan went on to produce convincing tributes to Far Eastern aesthetics – vide Ewen Henderson's (1934-2000) tea bowls, the austere beauties of pots by the Danish artist Gutte Eriksen (1918-2008) and magnificent bottles by Richard Batterham (1936-2021) that elaborate on Leach's ideas about a 'Sung Standard'.
---
Ewen Henderson & Gutte Eriksen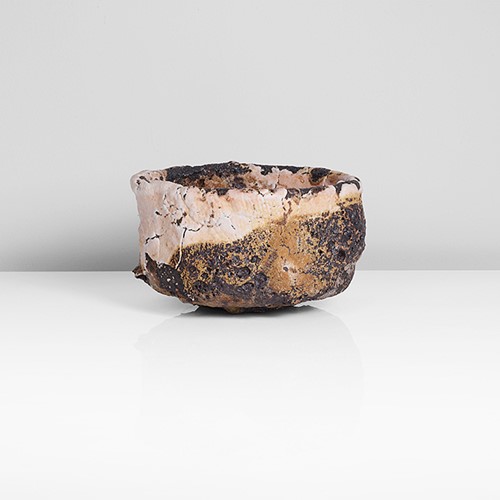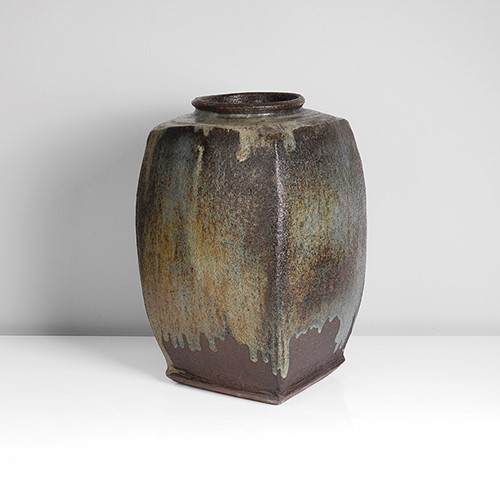 ---
The Nigerian potter Ladi Kwali's (c.1925-1984) remarkable career was played out in Northern Nigeria under British colonial indirect rule. 'Discovered' by the British potter Michael Cardew and co-opted in 1954 to join his Pottery Training Centre in what is now the town of Suleja. Ladi Kwali's situation as a vernacular potter, initially working in a colonial context, was quite different from that of two other black artists in the John Driscoll collection – the Guyanese Donald Locke(1930-2010) and the Nigerian Lawson Oyekan (b.1961). Both were formally educated in British art schools and their work is characterised by deliberate hybridity . Locke once wrote of the work of his tutor at Corsham School of Art, the British potter James Tower: 'They were neither pots nor vessels , but sculpture of a completely new kind, never seen before, but made using the materials and techniques of the 'traditional Potter''. It is a verdict which can be applied equally to Locke's own work and to that of Oyekan.
---
Donald Locke & Lawson Oyekan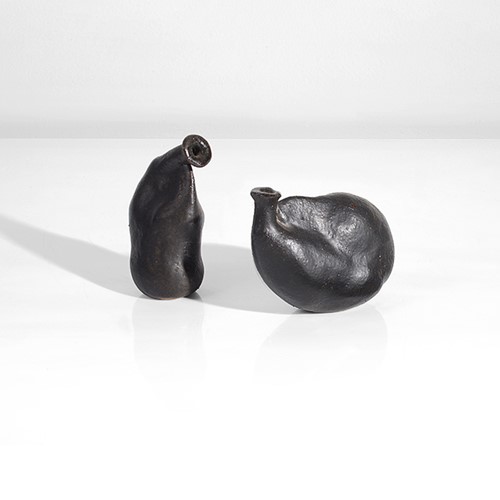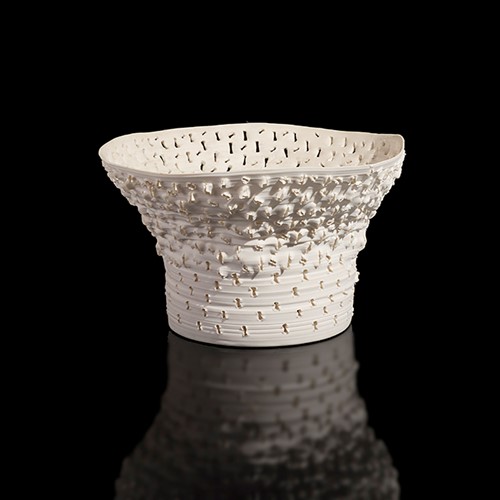 ---
Ladi, perhaps the greater artist and technician, remained silent about her work although she was a witty articulate woman. Cardew would ask Ladi Kwali about the birds, chameleons, fish, scorpions and snakes incised onto her pots. 'No, I don't know any special meaning in these creatures' was her delphic reply. In the end Cardew decided that if she had explained her work it 'would lose some of its magic'. That sounds patronising but was not meant to be. Ultimately we must be grateful that Ladi Kwali agreed to translate her skill into glazed stoneware. She had been trained to make low-fired hand-built pots as a child by her aunt, growing up to be the first among equals of the women potters in her village. Her glazed stoneware vessels, done at Michael Cardew's suggestion, turn essentially functional objects into works of art. Ceramic utility with a limited lifespan was given decorative permanence in stoneware. Work rooted in community appeared in galleries in London and Paris to be fought over by a small elite of collectors. Ladi offered a glorious, if curious, braiding of modernism and the vernacular. Cultures collide. Power relationships are on display.
By Tanya Harrod | 25 February 2022
Maak would like to thank Tanya for her contribution to the discussions around the Dr John P Driscoll collection
---
Michael Cardew & Ladi Kwali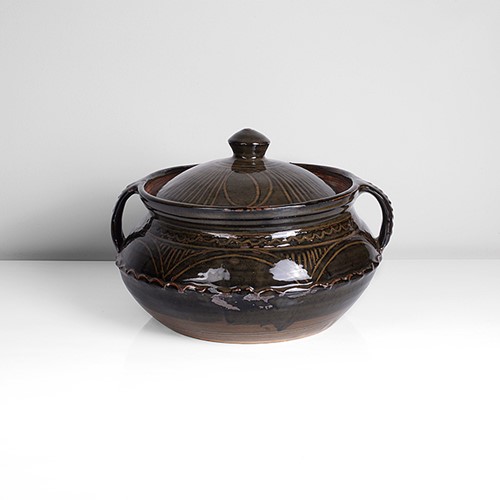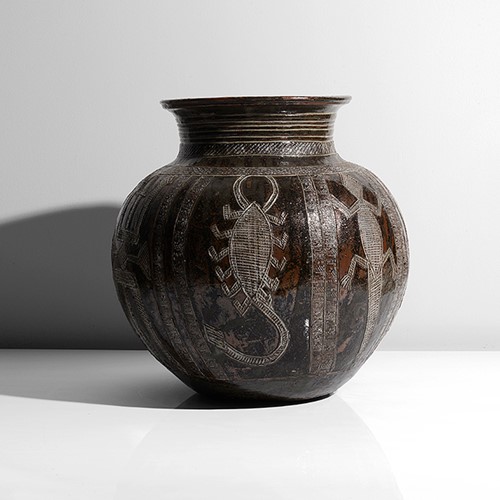 ---
Auction Details
East Meets West: Selections from the Dr John P Driscoll Collection at Maak Contemporary Ceramics
7 -10 March 2022
Gallery viewing
7 March 10am to 8pm
8 March 10am to 6pm
9 March 10am to 6pm
10 March 10am to 12pm
40 Earlham St
Covent Garden
London
WC2H 9LH
Online bidding
7 – 10 March 2022
Bidding takes place online at
www.maaklondon.com or contact
Maak to register absentee bids.
---